Rattlesnake Creek (G scale)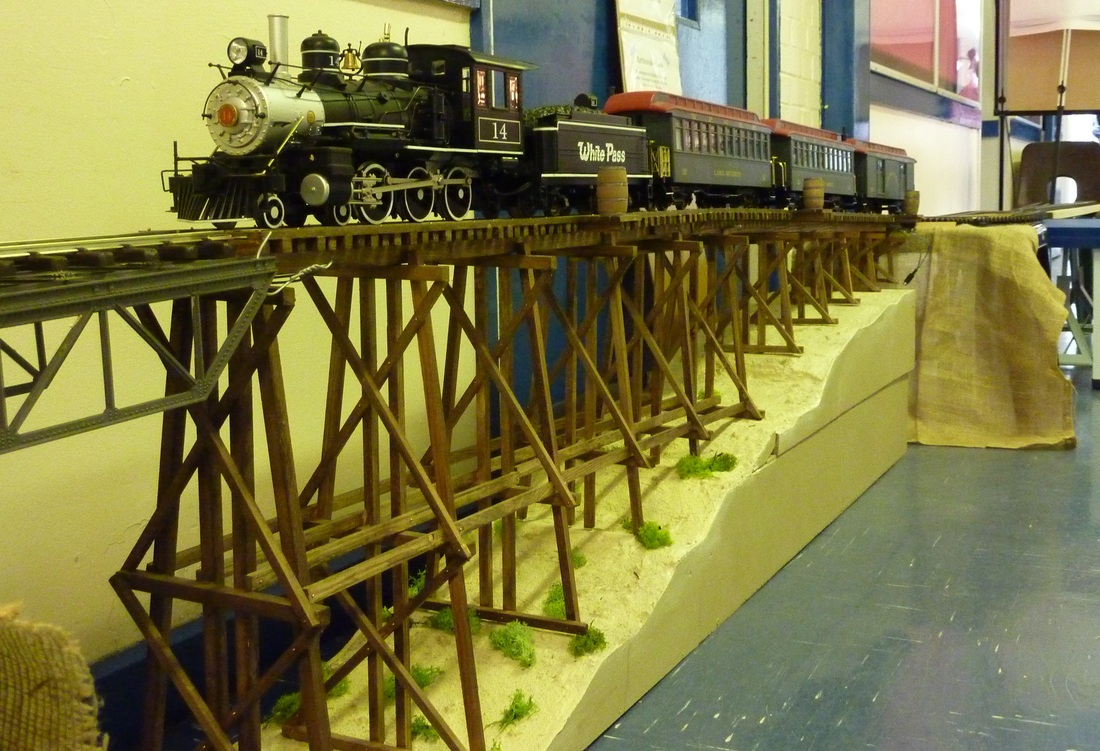 Rattlesnake Creek Timber Trestle forced indoors by our brilliant summer!
The layout was originally intended as a relatively straightforward ready to run outside exhibit to attract attention to our exhibition, however like so many railway layouts the original idea seems to have grown a little!
The layout is intended as an easily portable, quick to erect G Scale layout to illustrate what G Scale is about, providing a big layout which can be in or outdoors and with the large G Scale stock is something a bit different from the more normal 00, etc. layouts.
The most impressive feature is the seven foot long 20 inch high Rattlesnake Timber Trestle roughly based on a similarly named prototype in Colorado. If you look out you may even see one of the rattlers somewhere underneath the trestle, but be careful we don't have any cure for snakebite!
Built to fill a specific space only a half the bridge's length is modelled, a local gang of western bandits having blown up the centre section so they could rob a bullion train! If used in a continuous form the blown-up section is replaced with a girder bridge running into a timber supported tunnel mouth.
The layout is free format so that at it's maximum it can fill a space nearly seventy feet long or twenty five feet square. If any exhibition managers are interested it's best to discuss it potential formations.
Track is a mixture of Aristocraft and Peco. Stock a mixture of Bachmann, USA Trains, LGB, Hartland Loco Works and scratchbuilt. Only a few basic buildings appear as this purely a track & stock type layout.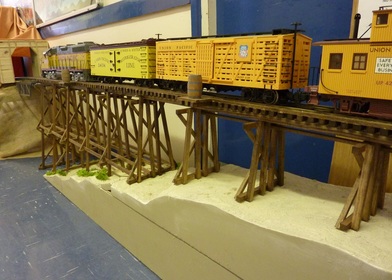 As the title suggests the layout is set somewhere in North America (not necessarily the USA), so in general American or Canadian stock is the order of the day. Though occasional other visitors may appear!
If you're expecting severe weather the maintenance department even have both a static and rotary snowplough to keep the trains running!
Just to show it's not all steam action a GP38-2 heads a short freight consist towards the tunnel mouth.
This layout has attended DHMRS Exhibitions in Welwyn Garden City 2011& 2012, plus Sheredes School, Hoddesdon, July 2012