Nevereech (N gauge) - RETIRED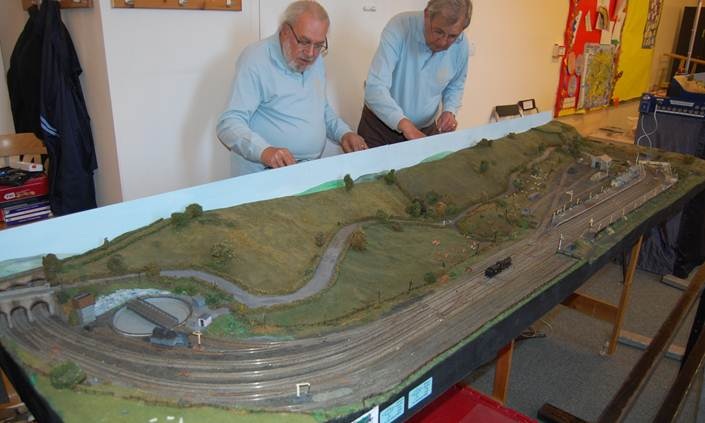 The track plan of this model, based on Evercreech Junction on the Somerset and Dorset line, was originally chosen purely by chance, being well suited to provide varied operation from shunting to the largest express train. From this beginning, interest in the location, and the Somerset and Dorset in general grew such that the layout is now representative of the period 1955-1965. Though not an accurate model, hopefully some of the character of the line has been captured, and in particular the operation of a busy through station, where pilot engines are often needed for the climb over the Mendip Hills.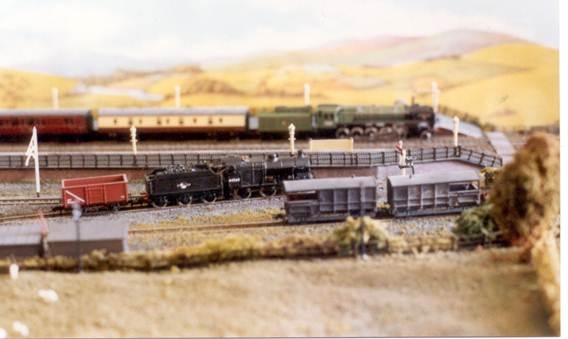 The Society acquired an extensive selection of stock for the layout, added a turntable and became familiar with its operation before undertaking a refurbishing/rewiring exercise.

The layout was a double track oval passing through Nevereech Junction station which has two platforms a central storage road, a small goods facility and carriage sidings near the junction. Storage sidings at the rear. Stock is mainly steam though the odd early diesel may appear.

This layout was built originally by Bill Shackel and was exhibited by him for a number of years on the exhibition circuit. Then in 2008 he exhibited at it our exhibition, following which he very kindly donated it to the Society. As he admitted, it was in need of some wiring and other refurbishing, and he wanted to put his time into newer projects.

THIS LAYOUT HAS BEEN RETIRED BUT WE PLAN TO BUILD A NEW VERSION IN THE NEAR FUTURE.