Havil Junction (00 gauge)
50 Years and still going strong!
Click the picture on the right for a trip round Havil Junction.
Click HERE for The Railway Modeller article from 1984
Click HERE for The Raiway Modeller article from 2013
It is now over fifty years since work on Havil Junction was started by members of the De Havilland Model Railway Society. Though many years have passed since then and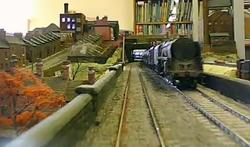 the club has moved twice - forcing major modifications, members have come and gone but the layout is still a central part of the club.

Reflecting our unique(?) linkage with an Aircraft Company a few examples of De Havilland aircraft may be seen flying above the trains.

Often visitors say "I remember seeing this years ago with my Dad", which we find satisfying for two reasons - (a) it obviously impressed them years ago so they still remember it but also because (b) the many changes and modifications made over the years have managed to keep the original character and style so that viewers still compare it with the original. In fact looking at the layout today not one single board of it has not had major changes made to it!

Despite its age, the Society is continuing to evolve and develop the layout. Recent work includes the electrification of the hidden siding points, some adjustments to the hidden siding sections to facilitate improved running and more variety of trains, whilst a new scenic half relief back-drop has been built behind the loco shed and goods warehouse.
Havil Junction is the society's older, 00 gauge, layout representing many years work in our original premises, it was originally 44 x 15 feet. Initially the layout was of both the Midland & GC stations at Nottingham with a fiddle yard from which the track emerged into a freelance Midland station (Havil - from de Havilland). Then due to a change in premises Nottingham was abandoned, following which Havil became the main layout.

More years passed and the society gained more space, so an 18 foot extension in the middle of the layout allowed the addition of the large bridges, based on Millers Dale, to be modelled crossing an industrial valley with typical grimy housing of the era. In addition a three-road engine shed was added and the existing tram circuit was extended through the valley giving a total run exceeding sixty feet of quite hilly roads!

Then yet another move and the layout underwent further changes, unfortunately this time we had to drastically reduce the size but did manage to retain the core urban area, keeping much of the original character. Now installed in our current premises the layout is fixed but still subject of much modification and development, including a completely re-modelled station and a new tram depot. Still our main layout it is used twice weekly and visitors are welcome to run their own stock.
Havil Junction Gallery - The many changes during the last 50years.