DHMRS News
2023
So far this year, De Havilland Model Railway Society have appeared at the Mill Green Museum and held their annual exhibition at the Ludwick Way Merthodist Church. See home page for the gallery link.
2022
LAYOUT DONATION
Peter Cabon has recently donated two very nice layouts constructed by his late brother David. David was a lifelong railway enthusiast and skilled model maker.
The layouts, one being an OO gauge and the other a two part N gauge, were built by David in his flat in Welwyn Garden City. The task of removing them was complicated by the size of the layouts, neither having been built with removal in mind. A certain amount of deconstruction was required to negotiate the tight bends in the hallway.
The OO layout (Munlochy Town) has now been given to one of our younger members, who now has it ensconced in his bedroom, much to his mother's delight!
The N gauge which is basically two individual layouts connected by a shared fiddle yard (Dale Road and Daleside) have now been adopted as the societies N gauge layout.
The larger part, Dale Road was too large to fit through the club doors, so the decision was made to cut it in half and re-join it using catches. This has now been carried out and modifications are now being made to make it more suitable for exhibitions.
The second part, Daleside will be developed as a separate layout.
Our many thanks to Peter Cabon and family for the donation and we hope that we will be able to keep his brother's fine work alive for many years to come.
Exhibition 2022
After 2 years of disappointment due to the pandemic, our 2022 exhibition was a great success.
Thanks to the organisation skills of our exhibition manager Phil Bicknell all went to plan despite a layout dropping out at the last moment.
Fourteen layouts were on display, Albanrail, Nonsuch, Kinross, Crocklemouth, Little Salkeld, Rixworth Green, Harvey's Wharf, Middleton-in-Teesdale, Swchwungischerplatz, Shabbey Road, Frindsbury Hill, Moth Eton and Havil Junction. We also had four trade stands, Joe Lock, Kevin's Trains, Keith's Model Railways and Ron's Totem Signs. The Railway Correspondence Society, The Locomotive Club of Great Britain and the St Albans Signal Box were also all represented, not forgetting UK Railtours our long standing sponsors.
The Ludwick Way Methodist Church as usual supplied the teas, snacks and lunches and of course the venue. Our thanks go to Chris, Joyce and all their helpers for making it possible.
Our thanks also go to all our members who worked hard to put on the display and to clear away after the exhibition.
We have already started planning our 2023 event, which will be on Saturday 29 April 2023. We look forward to seeing you then.
The 2020 CMRA Exhibition
De Havilland MRS attended the 2020 CMRA Exhibition in January, exhibiting our OO Middleton Layout and our Shabbey Road childrens layout, donations by children and their parents made £86 for the Isabel Hospice.
The Denis Moore Cup
Judged by DHMRS members Malcolm Olver and David Cross, the 2020 winner of the Denis Moore Cup was Milton Keynes Model Railway Societies Brinklow an N, 2mm scale 9mm gauge layout based on the Trent Valley Line.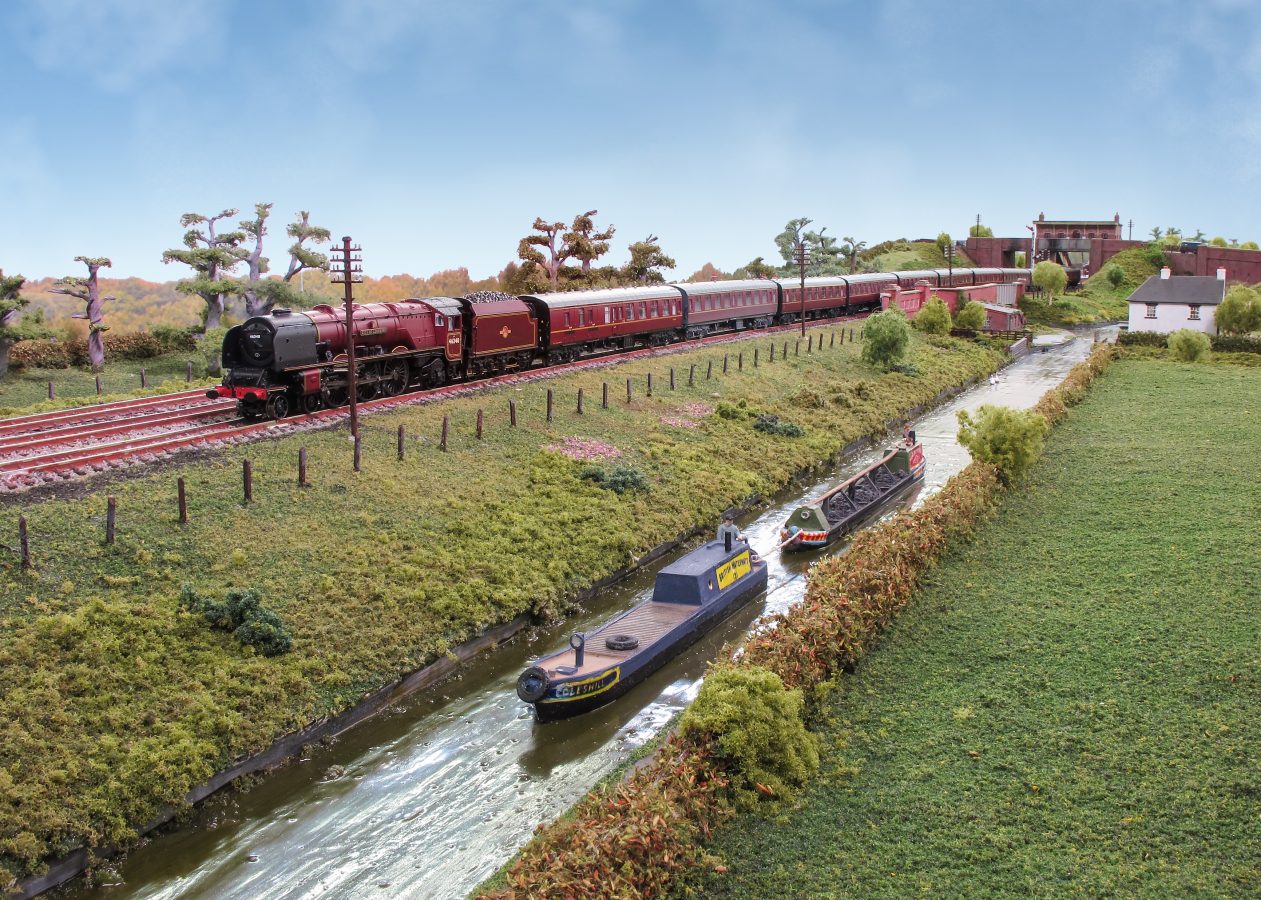 The 2019 CMRA Exhibition
Judged by DHMRS members Malcolm Olver and David Cross, the 2019 winner of the Denis Moore Cup was Tollesbury Quay. The layout was built by Martin Stringer and is based on the Blackwater Estuary in Essex.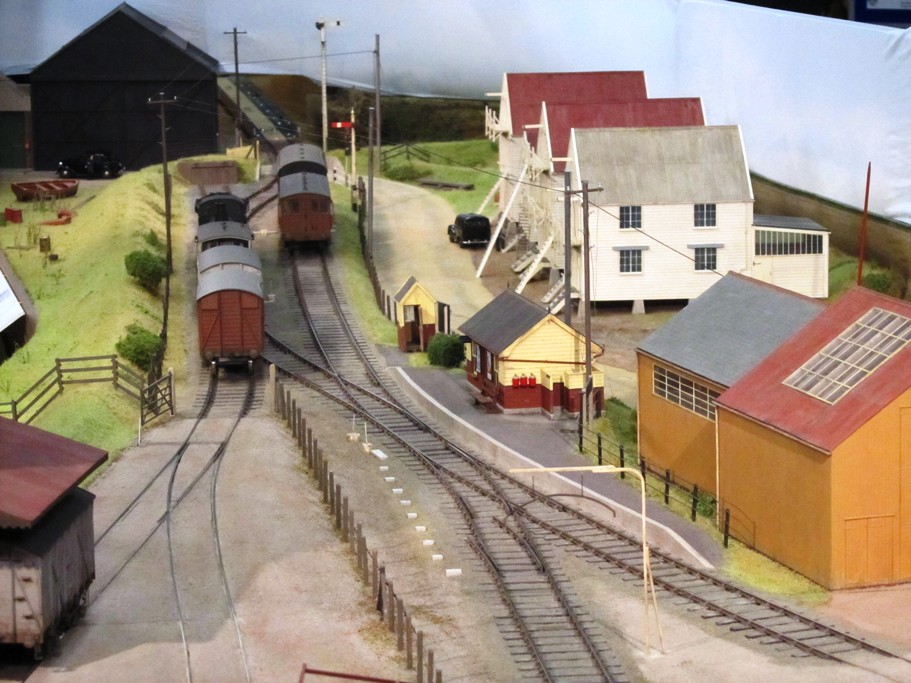 Strange goings on at the club! members appear to be constructing hundreds of baseboards and muttering 'Hatfield' under their breaths.

An Open Day in aid of the church was held on 2 September 2017
Mosquito Falls, our Canadian Logging layout appeared at Enfield Town Model Railway Exhibition in May 2017 and Sheredes School Hoddesdon in June 2017
The De Havilland Railway Society's Shabbey Road Childrens layout appeared at Welwyn Garden City, Howard Centre on Sunday 4 December 2016 Click HERE to view the pictures.
Our new O gauge layout Moth Eaton is progressing and should be ready for display in 2019.
Our Fry's Halt layout has been extended. The finished layout appeared at our exhibition on 22 April 2017
Work has now started on a new small N gauge layout.
Our On30 Canadian Logging layout Mosquito Falls will soon feature Starr's Donkey - pictured below

Out and About

Recent Society/member layout appearances
Royston, November 2013 - Fry's Halt and Pamsdowne
Stafford (G Rail 2014), March 2014 - Bideford Light Railway
Hoddesdon, July 2014 - Bideford Light Railway, Fry's Halt and Shabbey Road
December 2014, CMRA AGM
The Society again hosted the CMRA's AGM meeting and ran some of its layouts for the CMRA representatives viewing.
St. Albans January, 2015 CMRA EXHIBITION -
Members of the Society once again judged the award of the
Denis Moore trophy
for the best scenic layout at the exhibition. Please use the link to the exhibition website to see recipients.
DHMRS exhibition 25th April, 2015
Our exhibition took place in April and was again well received by the public, exhibitors and traders. For details of layouts and traders please see the Exhibition page.
THE ROGUES GALLERY!
(some of our members)
As can be seen insanity isn't a requirement for membership - but it may help!
Left to Right: Denis Moore one of the Society and CMRA's founding members who passed away some years ago.
Terry Murphy & Colin Thirsk being presented with 45 year service awards.
Ken Brown
being presented with his 45 year service award.
Colin Bloom in a lighthearted moment! Phil Bicknell also in a lighthearted moment!

Prototype Points


This brief section is intended to highlight historic facts that may be of interest to members to help justify some bending of perceived prototype history.
In this case it illustrates that for the recent themed
Southern Railway
running night on
Havil
(based around South Yorkshire) such locos might possibly have been seen there!
Extracted points from

The Railway Magazine of February 1942

:
An S&D train of 17 passenger vehicles seen leaving Bath for Midford hauled by an LMS class 5 - but piloted by an SR S11 4-4-0.
SR N15X 4-6-0s 2327 Trevithick and 2328 Hackworth at Old Oak (GWR) shed, plus 2329 Stephenson at Newton Abbot and 2331 Beattie running tender first on the GWR Bassaleg - Ebbw Junction valley line.
The SR had also loaned H15 and N15 class locos to the GWR.
Two Billington 4-4-0s had been lent to the LNER!
In total the SR lent 41 various locos to the LMS, one far flung observation being SR D1 0-4-2t 2605 piloting an LMS class 5 from Glasgow to Glenwhilly, on the Ayr line.
Such wanderings make one wonder why more people don't model war-time, though not a pleasant period of history, many unusual or strange sights could obviously be seen!
Content last updated February 2015