Bideford Light Railway (G scale)
This layout will be appearing at The Garden Railway Show at Nottingham 19 May 2019 & Burgess Hill Exhibition 7 September 2019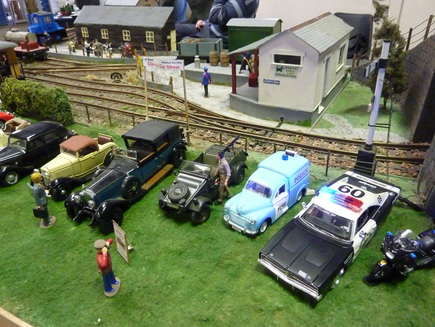 A local enthusiast built a narrow gauge line close to Bideford starting near the new Torridge bridge, that carries the A39 over the River Torridge, and finishing near Ashridge farm. Built as a private industrial line popular demand soon led to the provision of passenger services

Traffic is light, consisting of short goods trains usually worked by one engine during the week with passenger stock only appearing at weekends. The initial loco was a little German narrow gauge "field" loco, this was joined by two small American Mack diesel switchers found on a business trip to the States.

This weekend the local car club annual show is being held next to the line, cars on display vary depending on the availability of club members. Most members are interested in older classic cars but there is some interest in more modern rally cars and old motor cycles. Makers represented among members include Ford, Morris, MG, Triumph, Vincent, Fiat, Citreon, Renault, Dodge, Westward, Lancia, Mercedes, Porsche, Jaguar, Rolls Royce and even Bugatti – You may see any or all of these! In addition there could be military vehicles from the local Cobbaton Combat Collection, or exotic sports cars as used in Castle Coombes' driver experience days.
The preceding paragraphs are fiction, but provide the basis for the layout!
The layout depicts the end of the line where the loco's are stored, watered and fueled, as well as being next to the County Showground. Originally built in Bideford (hence it's name) as an exercise in minimum space G gauge modelling (6ft x 4ft), it was acquired by the present owner in 2005 it has been extended with extra baseboards, additional stock and the car show.
Track is LGB and Aristocraft. Stock a mixture of LGB, Harland Loco Works and scratchbuilt. Buildings are freelance based on typical narrow gauge structures, constructed from card & wood. The car show is built on an old ironing board and can be shown on its own. Models, some of which have been modified and detailed, are mostly die-cast offerings from Burago, Maisto, Quattroroute, Saico, Welly and Franklin Mint.
In addition to showing that G gauge is possible indoors (without a barn!) it also demonstrates that G gauge need not be expensive.
"This lovely layout shows that you do not need a large space to build railway in. It is compact, interesting to watch and is a good ambassador for the Society." – G Gauge Journal Winter 2008.
Articles on the layout appeared in the Winter 2009 and Summer 2015 editions of the G Scale Journal.
Exhibition details: Size
(minimum excl access)
: 9ft 3in x 5ft 6in, L shape - self supporting - operated from inside the L.
The layout is available in a number of configurations, please contact owner for more details
Transport/Expenses: Car - petrol plus food/drink for 1 or 2 operators. (if 1 operator will require a steward for meal/break relief)
Setting up time: 1.5 hours Barriers: Preferred
Exhibitions attended:
Welwyn Garden City, April 2006 Sawbridgeworth, October 2010
Hitchin, October 2006 Sheredes School, Hoddesdon, July 2011
Roxwell, November 2007 Welwyn Garden City, April 2012
Chelmsford, October 2008 Saffron Walden, February 2013
Roxwell, November 2008 Stafford G Rail (G Scale Soc. National Show), March 2014
Welwyn Garden City, April 2009 Welwyn Garden City, April 2014
Stevenage, August 2009
Sheredes School, Hoddesdon, July 2014
Enfield Town, July 2010 Kingston upon Hull November 2016
Goole March 2017 Welwyn Garden City April 2017
Bressingham August 2018 Selby September 2018
Nottingham G Scale National Show May 2019